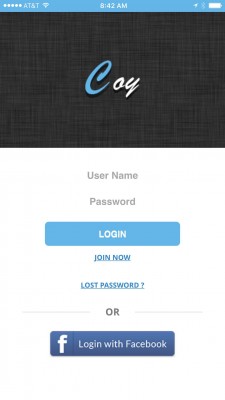 The Coy App utilizes 10 second first impression videos that confidently pair users and creates a safer space for building relationships.
NEW YORK, NY, May 3, 2016 (Newswire.com) - The Coy App is a new visual dating app that allows users to match with each other based on 10-15 second first impression videos. It is the first app of its kind to require a video profile in order to utilize the app and search for matches. This requirement eliminates catfishing - when people create fake online identities - solving a common problem in online dating. The Coy App is also one of the first to be open to an all-inclusive community, supporting users who are straight, gay, bi-sexual, and transgender.
Once the initial sign-up is completed, a user can determine the kind of person they want to search for with customizable specifics including age, gender, sexuality and distance. When users find someone they like, they send their video as an introduction, and if the person is interested, they send their video in response. If there is mutual interest, then the users can chat and build a connection.
The Coy App is really first-of-its kind as we require videos of all of our users before they can start engaging with others on the site, ensuring a safer environment for relationship building.

Adam Newell, Founder and CEO The Coy App
"The Coy App is really first-of-its kind because of the commitment to developing a safe environment for relationship building," says Adam Newell, founder and CEO The Coy App. "We are also the first app of this kind to include the transgender community. Our goal is to be inclusive and create a unique platform not seen before with online dating apps."
Not only do the video impressions bring a much more comfortable environment to start building lasting connections, users are able to see who they are connecting with. They can pick up hints about other's personality, voice and style, a crucial part of determining chemistry and attraction. In the age of online dating, it's time for an upgrade. The Coy App is available for iPhone and iPad and can be downloaded at the Apple iTunes Store.
For more information, visit The CoyApp.com.
About The Coy App
The Coy App strives to create a unique platform for all communities to build real relationships in a safe and creative environment. Now people can confidently match with others by creating a 'first impression' video that best portrays their own personality, therefore eliminating catfishing and allowing the development of real relationships to be made between users. For more information, visit TheCoyApp.com.
Instagram.com/TheCoyApp​
​Twitter - @TheCoyApp
​Facebook.com/TheCoyApp
Contact Information
​Adam Newell
​Founder and CEO
adamcoytv@gmail.com
Source: The Coy App
Share: